PANEL: The German-French proposal for the normalization agreement – much ado about (nothing) what?!
Release date: 26.01.2023.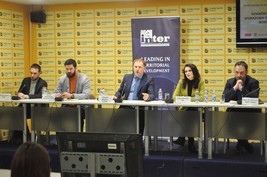 The Working Group of the National Convention on the European Union for Chapter 35 organized a panel discussion "The German-French proposal for the normalization agreement – much ado about (nothing) what?!" today in the Media Center in Belgrade.
The coordinator of the WG NCEU for Chapter 35, Dragiša Mijačić, stated that the German-French proposal for the normalization agreement is an interim agreement, while the final normalization agreement will probably be formalized through Serbia's accession in the EU, when the official recognition of Kosovo will be required. Also, Mijačić emphasized that the agreement between Belgrade and Pristina, which is announced, will be an agreement that represents a special battle for the Kosovo Serbs, because if we do not resolve the protection of the collective rights of the Kosovo Serbs now, we will not be able to do so in the next one.
Igor Novaković from the ISAC Fund stated that the goal of this agreement is to completely de-escalate the situation between Belgrade and Pristina at the time of the war in Ukraine and to enable some countries to change their minds about the status of Kosovo. Novaković also stated that he is not sure that "this agreement will be reached, because the political elite in Pristina wants Serbia to recognize Kosovo in some way, and from their perspective this is a condition for dialogue".
Stefan Vladisavljev from the Foundation BFPE for a Responsible Society emphasized that this agreement can be qualified as a political agreement and it was to be expected that political pressures would occur. "We no longer have any carrots that are offered primarily to Serbia and that the time has come for sticks. "Unfortunately, this agreement does not guarantee anything, it is not legally binding and tomorrow we can return to the status quo and a new tightening of relations, although I do not know if this is possible considering the involvement of the international community," he said.
N1 journalist Sonja Sovrlić stated that the key question is how the rights of Serbs in Kosovo will be regulated, it is planned to be defined through the Association of Serb Municipalities, but for now we do not know how it will be implemented. The USA took on the role of implementing it. Also, she emphasized that "there needs to be a debate about this proposal, it's true that we haven't seen it, but we sense the outlines from the media." It looks like "Brussels 2" to me, it is clearly not a final agreement, and we are not surprised by that document and announcements. In the context of the Serbs in Kosovo, the current situation in the four municipalities in the north is important, because the exit of the Serbs from the Kosovo institutions created some new realities."